Name of Weapon or Item
: Spiked Brass Knuckles
Owner
: Satsuriku
Location
: In a pouch at her hip, when not using them
Rank
: C
Description/Abilities
: They are made of stainless steel, but strengthened in such a fashion that they can take on any material the same rank and under C. Other than that, they have no special ability.
History
: Satsuriku bought the pair of these spiked brass knuckles in a shop in Amegakure. She figured it would be good to use something to protect her knuckles with while punching someone, something, but after having looked over a few brass knuckles without finding anything she really wanted, she saw these. Spiked ones. It was perfect, for not only would she be getting more efficient punching but also be able to rip people up while at it.
Appearance
: A pair of brass knuckles who have 1 inch long spikes in front of each finger hole. The weight of each spiked brass knuckle is 7.9 ounces and the length 4.4 inches, the diameter of the finger holes is 1 inch. Both are black.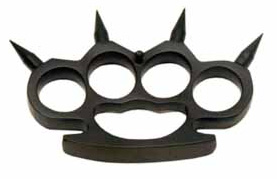 Name of Weapon or Item
: Claymore
Owner
: Satsuriku
Location
: Strapped onto her back whenever not being used.
Rank
: C
Description/Abilities
: Not a sword one would use when in need for making quick attacks, but Satsuriku uses it when she needs an extra power and weight into her blows. Also to cut through things that are in her way. There is nothing extra ordinary about this sword, the only thing about it is that it's strengtened enough to withstand the blows and cuts from normal weapons and attacks, but not of those over C rank.
History
: After a fierce fight outside of Amegakure with a weaponry user, she took his claymore after his death. Usually Satsuriku didn't really like using weapons, but she figured it would be neat to use that heavy sword to either strike fear into people or be able to use it when under her modified ability. As when she moves faster and is stronger, this claymore is a lethal weapon against most.
Appearance
: A claymore of the weight 6.2 lb and the length of 55 inches. The blade is double edged, and the hilt is two-handed cruciform, with pommel. The blade of the claymore is always wrapped up in a dark green clothing, which is tied together with a simple rope, while not being used.