Name of Weapon or Item
: Chain Scythe
Owner
: Black☆Star
Location
:
Rank
:
Description/Abilities
: The weapon is probably the one that Black Star makes the most use of by far the most in battles, and is normally the first weapon summoned/used when entering a battle. It likely offers Black Star the most versatile use of moves for attack and defence, while he uses the most of his other weapons when the situation calls for more adaptability. The chain scythe is also used by Black Star to execute a number of other special moves or rather unique jutsu.
History
:
Appearance
: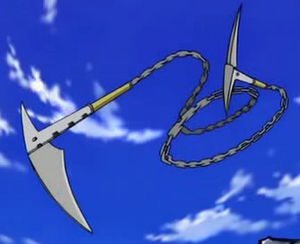 ---------
Name of Weapon or Item
: Custom Shuriken
Owner
: Black☆Star
Location
:
Rank
:
Description/Abilities
:
Abilities: Black Star can pore his chakra into the weapon to alter its form. The new form enhances its cutting ability. It still takes chakra to turn the shuriken back into its original form.
First Form: Unlike shurikens in other forms of media or real life shuriken, This form is quite large and takes the common fictional shape of a 5 point star. The form itself is not used much due to the limitations of it's large size and the fact that it takes sufficient space and effort to throw it, contradicting Black Star's preference towards his close-range fighting style.
Second Form: using his chakra, Black Star transmutes the shuriken into a large, four-pointed shuriken, constructed from four ornately-patterned blades extending outwards from a wide circular ring acting as the weapons centre. The technique itself is a direct progression of the first form; this means that it retains its capabilities to be thrown with considerable force at a target, using the high speed of the rotations and sharp blades to easily slice through the majority of objects.
By inserting his hand into this specific section, Black Star's fist is immediately coated with a smooth black substance that is accented by ornate white patterns, which proceeds upwards with the shuriken to just past his wrist. After this process is complete, Black Star is able to release a substantially powerful blast of energy, which not only causes a distinct extension in the surrounding blades but also emits a significant conclusive force directed forwards.
While the technique is in effect, the shuriken remains in the same location on the arm but it continually rotates despite Black Star's movements. This action results in the ability having defensive properties as well.
History
:
Appearance
:
Original Form:
Secondary Form: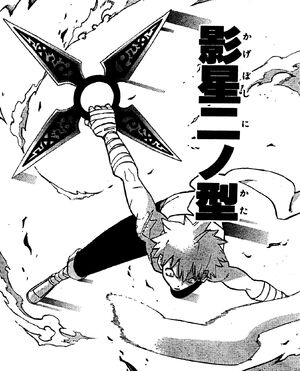 -------
Name of Weapon or Item
: Custom Kunai
Owner
: Black☆Star
Location
:
Rank
:
Description/Abilities
: A large black kunai-style dagger with white ornate patterns and a long strap of cloth tied to it.
History
:
Appearance
:
---------
Name of Weapon or Item
: Masamune
Owner
: Black☆Star
Location
:
Rank
:
Description/Abilities
:
History
:
Appearance
: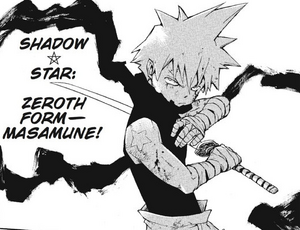 ---------
Name of Weapon or Item
: Ninjatō
Owner
: Black☆Star
Location
:
Rank
:
Description/Abilities
:
History
:
Appearance
: